Check out the new Air Tour of the Main and SX tracks, courtesy of
MXP

TV

!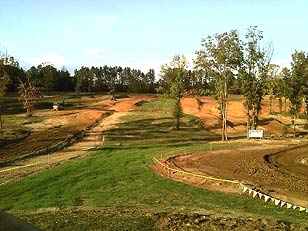 NCMP's main race track, the centerpiece of our facility is approximately 1-3/4 miles of singles, doubles, whoops, sweepers, hairpins, step-ups, step-downs and high-speed straights, all on some of the sweetest sawdust-amended North Carolina dirt you've ever ridden on. No bluegroove here. Home to several AMA motocross races throughout the year, it is known by pros and amateurs alike as a challenging and immensely ride able course.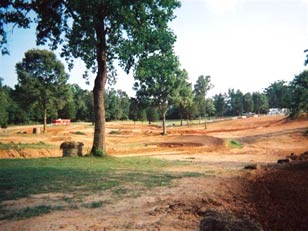 The 'practice track' as it's known is an absolute blast to ride. Its 3/4 mile layout features singles, a small double (with a bypass for those who would rather go around it), step-downs, a high speed sweeper, bowl turns, and a 40-foot tabletop located right next to the parking area – a perfect spot to get a pic of your rider getting some serious air.
The skill level required for this track is novice/intermediate. Open every day.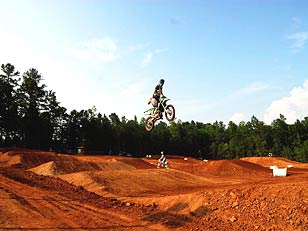 Opened in April 2011, the Nite-X Supercross track is the newest addition to our facility, and the home base of our extremely popular new Nite-X race series.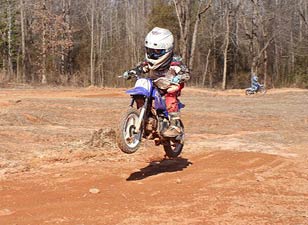 Our pee-wee track is the perfect place for your aspiring superstar to build their chops before throwing the training wheels away for good and moving up to the big tracks. The track layout is all motocross, but the terrain is easy and designed to instill confidence in young beginning riders. The pee-wee track is open every day.