NCMP PARK ANNOUNCEMENTS
ATTENTION: NCMP will be closed this week. March 13-17.  With the all day rain Sunday we are very wet for Mon & Tues and then we will begin prepping for our race this weekend, March 18/19.  Details below:

2023 NCMP RACE SCHEDULE 
MARCH 18/19 – NCMX / SEWMX
APRIL 21/22/23 – SE AREA LLQ / NCMX
JUNE 24/25 – MAMA MX
AUG 5 – SX STATE CHAMPIONSHIP
OCT 7/8 – NC STATE MX CHAMPIONSHIP
North Carolina's Premiere Dirtbike Riding Facility!!
**OPEN 7 DAYS A WEEK, WEATHER PERMITTING** 10 am – 5pm
Please follow the "Northcarolina Motorsportspark"  Facebook page and the NCMPMX  Instagram page for up to the minute posts regarding closures & weather. You can also call the NCMP Track Info line at (252) 767-6671 to listen to our recording. We have 4 tracks including: peewee, intermediate mx, sx style, advanced mx race track & 8+ miles of woods trails. RV elec only hookups, primitive camping and porta-potties onsite. 
"An Offroad Park for Dirtbikes – Built for riders, by riders!"
KENDA TIRES – The Official Tire of NCMP!!
The North Carolina Motorsports Park is proud to announce that KENDA TIRES is on board as the official tire again for 2019!!!!
Kenda Tires has been a leader in the industry and major supporter of off road motorsports for many years. We, at NCMP are thankful for their support and give back 100% of it to the riders and families.
Try their tires if you haven't and see for yourself that they have a tire designed for your adventure! I love my triple sticky's! #kendatires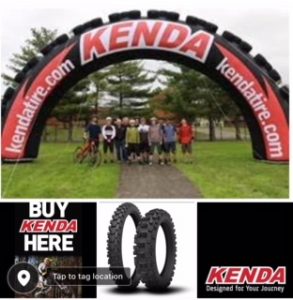 ********************************************************************************************
A Practice, Race and Family Dirt Bike Riding Facility
Open Year-Round, 7 Days a week (weather permitting) 10am-5pm

North Carolina Motorsports Park is your destination for motorsports and family riding fun! Located in Henderson, North Carolina, NCMP was designed and built by the Czysz family and a group of dedicated dirt riders/racers (the Krusty Krew) as a world-class facility for TWO-WHEELED riders of all levels. Family owned and operated, NCMP's goal is to provide a safe, clean, and fun place to ride and camp for everyone! 

NCMP has over 180 acres of rolling wooded terrain which has been transformed into a motorsports park that has something for riders of all skill levels.
From pee-wee to to the advanced off-roader, NCMP offers something for everyone:
1-3/4 Mile MX Race Track

1 Mile MX Novice/Intermediate Track

Pee-Wee MX Track

SX Style Track

Miles of Wooded Trails, including peewee beginner loop
North Carolina Motorsports Park is located in Henderson, North Carolina, just 45 minutes north of Raleigh / Durham and just 10 miles north of Louisburg. We are open 7 days a week from 10am to 5pm.